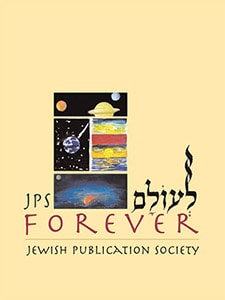 The Jewish Publication Society (JPS) has published biographies, histories, art books, holiday anthologies, books for young readers, religious and philosophical studies, translations of scholarly and popular classics, and an English translation of the Bible from the original Hebrew.
To support JPS's fundraising efforts, we created this portfolio — a pocket folder that houses a brochure. Books and illustrations were researched in JPS's archives, identified and then photographed. The page design is based upon the layout of a page of Talmud, with main text appearing in the center and "commentary" surrounding it.
The piece reinforces JPS's breadth of work over the years, strongly making the case that it needs to be supported "forever." "Forever" is the theme of this development initiative.