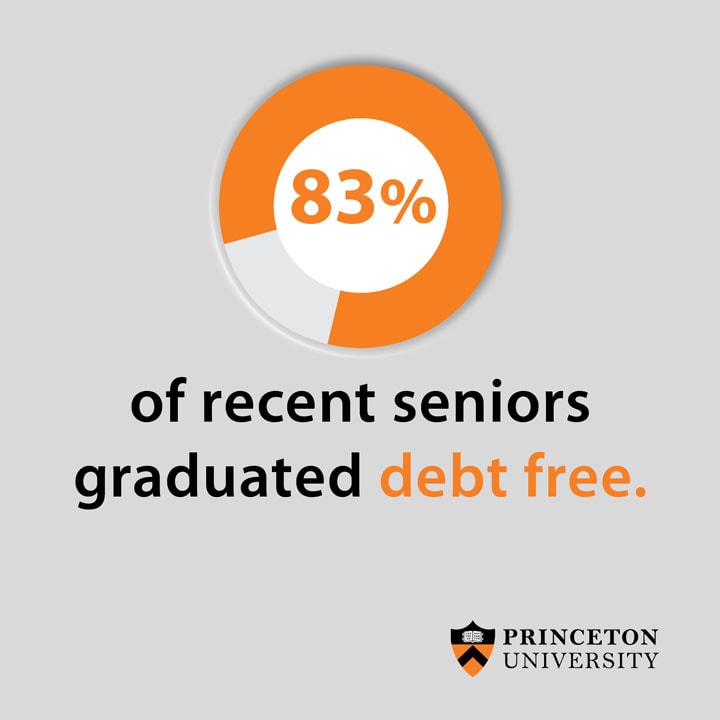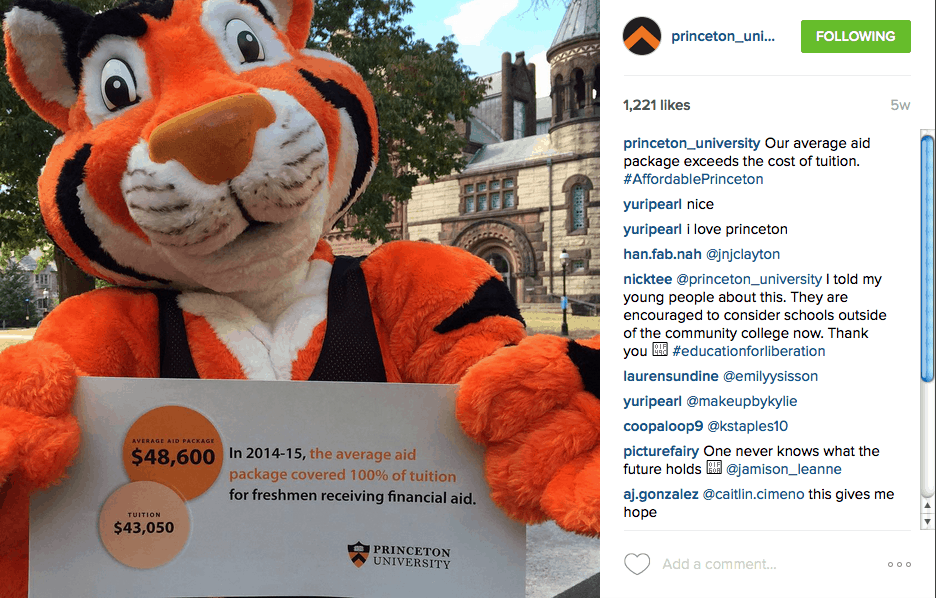 Princeton University's financial aid policy is recognized as among the most generous in the country. To publicize its impressive data, the Office of Admission asked us to create a series of infographics to be used on Facebook, Twitter and Instagram. In addition to functioning individually, the graphics needed to have a cohesive look as a series and be faithful to the Princeton brand.
According to Mary K. Buckley, Senior Assistant Dean, Interactive Communications, "Our goal was to raise awareness about Princeton's generous financial aid policy. We wanted our core financial aid statistics to be the focus of the campaign; content needed to be delivered in a simple, easy-to-read format and include an interactive element."
The Office of Admission created a hashtag, #AffordablePrinceton, and over the course of six weeks rolled out the campaign with enormous success. Some of the Facebook posts received over 1200 "Likes" and on Instagram, where the graphics were included in a photo with the Princeton Tiger, the university's mascot, some posts received as many as 1500 "Likes" and 20 comments.
With the campaign underway, the Office of Admission and the Office of Communications collaborated to produce an article, "Affordable Princeton: Financial aid allows students to graduate debt free" that, along with the graphics, was featured on the home page of Princeton University's website.
"Amy Pollack understood our mission from the start. She joined us in brainstorming ideas for our campaign, and brought expert advice to the process. Moreover, Amy presented us with several design options, conceptualizing ideas beyond the scope we discussed. The decision-making process was easy thanks to her design sensibilities and attention to detail. As with any social media campaign, our project evolved with each post. Amy was accommodating. She was quick to respond to our emails and calls, and she always delivered content on time, if not ahead of schedule. I look forward to working with Amy on future projects."
– Mary K. Buckley, Senior Assistant Dean, Interactive Communications, Princeton University