The communities of Chester, Swarthmore, Wallingford and Media are within a few miles of one another in Delaware County, Pennsylvania. Chester's population is primarily African American; the others are primarily white. There are socio-economic and religious differences within these neighborhoods. But FUSE was formed to nurture their fundamental commonalities, to bridge the gaps that are all too common in today's America where we do not form relationships with those who live beyond our self-imposed borders.
The goal of this grass roots interfaith initiative seems simple: to talk, to get to know one another, to form friendships and connections so that people can get to know "the other," thereby letting go of fears, stereotypes and assumptions.
FUSE, the Fellowship of Urban Suburban Engagement is about creating an "US" where before there was only "THEM" and "THEM," the Urban and the Suburban. When I created the logo,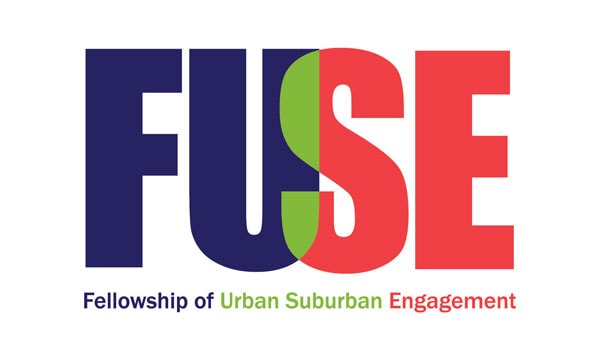 I made the "U" of Urban and the "S" of Suburban intersect to create a new shape, in green, to represent the sprout of a new, linked community identity, "US."
Well, 2 years later that community of US is taking shape! The dialogue has begun, and particularly in view of the recent presidential election, the value of talking, learning and understanding one another has never been stronger. At Thanksgiving, FUSE sponsored a community-wide talent show. Close to 250 people showed up to witness an outpouring of song, praise, prayer and dance that celebrated the diversity and the unity of our neighborhoods. Appeals to "bind us, FUSE us, use us", "allow us to be the light of the world," and to "meet the spark of the divine in the person next to you" were met with resounding applause, hugs and tears.
How great it felt to see that my effort to capture the vision of courageous community clergy members in a logo came to life with such love and spirit. I am so proud to be part of FUSE. See for yourself in the video below.