The Attic Youth Center is one of the nonprofits that you can designate as a beneficiary in our Twistnshout for Tolerance Campaign.
Officially,
"The Attic creates opportunities for Lesbian, Gay, Bisexual, Transgender, and Questioning (LGBTQ) youth to develop into healthy, independent, civic-minded adults within a safe and supportive community, and promotes the acceptance of LGBTQ youth in society. The Attic is proud to be Philadelphia's only independent LGBTQ youth center."
The Attic, which serves youth ages 14-23, focuses on three main areas: Life Skills, Therapy and Support Groups and Education and Training. All of these services are offered free of charge. Many of the inner city young people who access The Attic are low income and often homeless as a result of challenges at home due to their sexuality. While the Attic is not a residential center, it often becomes a second home to its participants. Specific services include youth leadership training, job skill training, internships, housing counseling, family therapy, HIV prevention and testing, and educating the external community about LGBTQ issues.
I think the best way to understand the Attic is to hear about it from some of its participants. As they say on The Attic website, it's OK2BU.
Meet Rob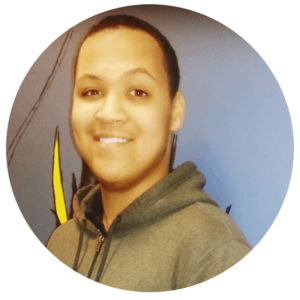 "In 11th grade, I made one of the best decisions of my life – I came to The Attic. I was scared and overwhelmed – dealing with coming out to unsupportive family members and being bullied at school for being gay. But, walking into The Attic was calming. I couldn't believe I was standing in a room with a bunch of people like myself. It was a lot to take in, but I just felt really happy…
… Coming to The Attic was the best thing that I have ever done. I love everyone's encouragement and openness. The Attic helped me come out of a major depression, and feel as if my life had purpose. I am involved in The Attic's high school internship program, both in the summer and during the school year. I write and perform poetry. I speak on panels with The Bryson Institute of The Attic, and I have even gotten to speak about LGBTQ youth, homelessness and bullying in schools to the Philadelphia School District Administration."
Meet Adrianna
"It was in 7th grade that I heard the term "bisexual" for the first time. I instantly connected, and couldn't believe there was a word to describe how I felt. My father's brother is gay and I was so excited about having a word to describe me that I came out before I had ever really thought of the possible negative reactions and repercussions. My father told me it was a phase, and so did my uncle. I couldn't confide in my mother, because she moved out of the state. Most of the people at school called me horrible names and questioned me constantly. My teachers had no idea how to handle bullying so they did nothing at all. In 8th grade, I tried to commit suicide from the constant rejection and lack of visibility. I only hoped that high school would be easier…
… The Attic … has become a second home from the scrutiny of the rest of the world and a safe haven for me and the other people that attend. The people at The Attic have become my family and I couldn't be more thankful for them. The Attic saved my life, and allowed me to realize exactly who I am – a proud interracial bisexual woman."
Thank you to Alyssa Mutryn, Director of Development at The Attic, for sharing her insights with me.
Want to support The Attic? Hire us and we will donate 10 percent of our creative fee to them through Twistnshout for Tolerance.