When hate has a home in the White House, our children see it, hear it and fear it.
This is why we are supporting the Southern Poverty Law Center (SPLC) through our Twistnshout for Tolerance campaign.
In the first days after the election, the SPLC's Teaching Tolerance project administered an online survey to K–12 educators from across the country. Over 10,000 teachers, counselors, administrators and others who work in schools have responded. The survey data are part of a report called "The Trump Effect." Some highlights:
Ninety percent of educators report that school climate has been negatively affected, and most of them believe it will have a long-lasting impact.

Eight in 10 respondents report heightened anxiety on the part of marginalized students, including immigrants, Muslims, African Americans and LGBT students.

Four in 10 respondents have heard derogatory language directed at students of color, Muslims, immigrants and people based on gender or sexual orientation.

Over 2,500 educators described specific incidents of bigotry and harassment that can be directly traced to election rhetoric. These incidents include graffiti (including swastikas), assaults on students and teachers, property damage, fights and threats of violence.
Teaching Tolerance has started a campaign called #StudentsSpeak; it asks students to provide advice to President-elect Trump. The responses, which now number over 1000, are posted on a Facebook page. Some examples: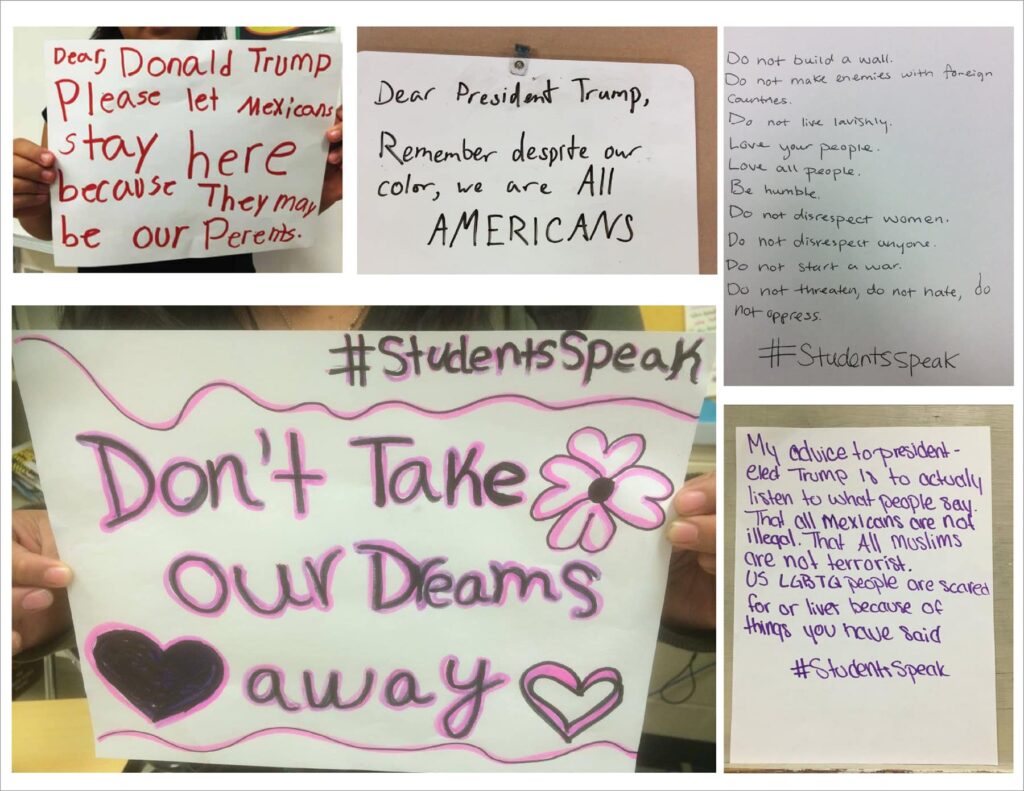 I see this and weep. I cannot believe that this is happening today, in America.
The people at the SPLC are doubling down on their commitment to fight hate, teach tolerance and seek justice for the most vulnerable and are crafting constructive strategies to confront hate and bias, educate, and resist.
We have no choice. Our children demand it.
Thank you to Willemijn Keizer, Director of Institutional Giving at SPLC, for sharing her insights with me.
Want to support the Southern Poverty Law Center? Hire us and we will donate 10 percent of our creative fee to them through Twistnshout for Tolerance.